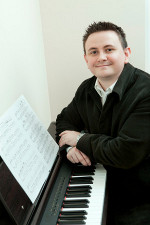 Dan Phelps is a composer, pianist and music tutor based in Tonteg near Pontypridd, South Wales. Dan has a Post Graduate Diploma in Composition from the Royal Welsh College of Music and Drama as well as a BA (Hons) Degree in Music from Bath Spa University College.
Dan is a prize winning composer whose music has been played all over the country. He has produced music for a number of professional organisations and individuals including Rubicon Dance, India Dance Wales, Elan Wales (a theatre company) and Calon TV (an animation company) amongst others. His chamber compositions have been performed by ensembles such as the Gjylaci Duo, Ensemble Cymru and Altitude (Philip Heyman (of Welsh National Opera) and Zoe Smith). One of his works was performed at the Powys Hall at the University of Wales, Bangor, by Harvey Davies (piano) and Heather Bills (cello) as part of the Bangor Music Festival. Dan has also worked with librettist Simon Rees of Welsh National Opera and continues to work very closely with two poets, Jeff Phelps and Simon Fletcher, on a collaboration project Severn Spirit.
Dan was also a member and an associate composer of the Cardiff New Music Collective for several years, specialising in performing contemporary music to new audiences.
Dan has extensive experience as a solo pianist and keyboard player and has performed extensively throughout the UK. As well as his own solo piano recitals he provides music for care homes, weddings, corporate events and functions. He also works with vocalist Jayne Sarah providing an acoustic set of Jazz, Blues and original arrangements of classic songs. Performance highlights include, as a solo pianist, performing at St David's Hall as part of the Welsh proms and at St Donat's Arts centre.
Past performance credits include being the keyboard player for 2 Rude (a ska tribute band), New Jersey (a Bon Jovi tribute band), performing with the Con Brio Samba band, and playing as part of a vocal and piano duo providing an acoustic set of an extensive mix of music.